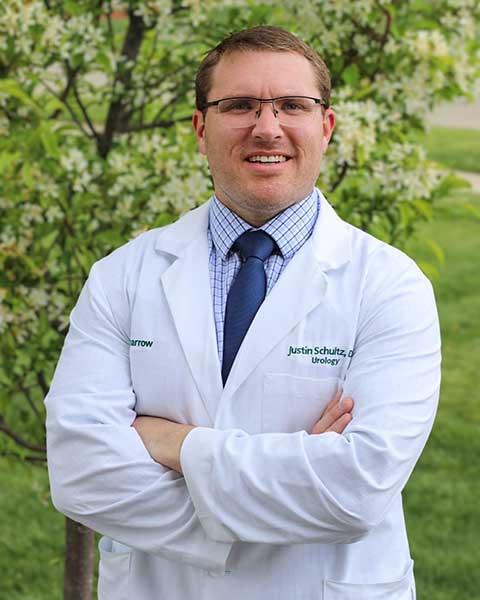 Dr. Schultz is a graduate of Midwestern University, Arizona College of Osteopathic Medicine. He graduated first in his class in 2016, then spent the next 5 years completing his Urologic Surgery Residency at Sparrow Hospital in affiliation with Michigan State University. While in Michigan, Dr. Schultz was a leader in the medical education department and was promoted to Chief resident one year early. He also brings with him a passion for teaching. He believes strongly in patient-centered care and feels that patients are best served when they fully understand their course of care.
Dr. Schultz practices the full scope of general urology, including management of kidney stones, prostate enlargement, as well as minimally invasive treatments of prostate and kidney cancer. He has special interest in procedures that improve quality of life, with focus on genitourinary reconstruction such as surgical management of erectile dysfunction, male urinary incontinence and urethral stricture disease.
Education
Sparrow Hospital Residency in Urological Surgery - Lansing, MI. 2017 - Present
Michigan State University Integrated Residency in general Surgery - Lansing, MI. 2016 - 2017
Arizona College of Osteopathic Medicine, Midwestern University - Glendale, AZ Doctor of Osteopathic Medicine Class Rank: 1/247. 2012 - 2016
Oregon State University - Corvallis, OR Bachelor of Science Exercise and Sports Science. 2006 - 2011
Honors and Awards
2019 - Present Urology Chief Resident - Sparrow Hospital Promoted to Chief Resident one year early
2016 Medical School Valedictorian Midwestern University
2016 Dean's Commendation Award - Midwestern. University
2014 Robert F. Crawford M.D. Scholastic Achievement Award - Midwestern University Award for being tanked number one in both grades and community service
2014 TOUCH Silver Award - Midwestern University Award for accumulating 50+ hours of community service for the academic year
Professional Activities and Memberships
2019 Ohio State University Robotics Preceptorship - Advanced robotics course for senior residents
2018 Cleveland. Clinic Reconstructive Surgery Preceptorship - One of 42 residents nationwide selected to attend
2016 - Present - American Urological Association - Resident Member - Attended national meeting 2017, 2019
2016 - Present - Sigma Sigma Phi - National Osteopathic Honor Society - Member
2014 - Present - Student Osteopathic Surgical Association - AZCOM Chapter - Vice President
Scholarly Activity
2019 - Present - Low Intensity Shockwave Therapy in Treatment of Vasculogenic Erectile Dysfunction - Lansing, MI - Randomized trial of LISW versus placebo in treatment of vasculogenic ED
2019 - Present - Improved Adherence to AUA Recommendation for Appropriate Imaging in Evaluation of Renal Trauma - Lansing, MI - Quality improvement project to enhance adherence to AUA - recommendation to obtain excretory imaging in initial evaluation of renal trauma
2017 - Present - Improved Adherence to AUA Guidelines for Diagnosis of Ischemic Priapism - Lansing, MI - Quality improvement project to enhance adherence to current professional guidelines for obtaining cavernosal blood gas in the diagnosis of ischemic priapism
MSU Quality Improvement Summit - Schultz, J (2016). Standardized Patient Handoff Using IPASS System Poster Presented at: MSU General Surgery Research and Quality Improvement Day; Lansing, MI
2013 CORE Institute Summer Research Internship - Glendale, AZ - Investigated novel implant for improved biomechanics after reverse shoulder arthroplasty
2013 Midwestern University Research Day - Glendale, AZ - Schultz, Justin P (2013). Pudendal Nerve Entrapment and Decompression Poster presented at: Midwestern. University Research. Day; Glendale, AZ.